Your trusted local tree surgeon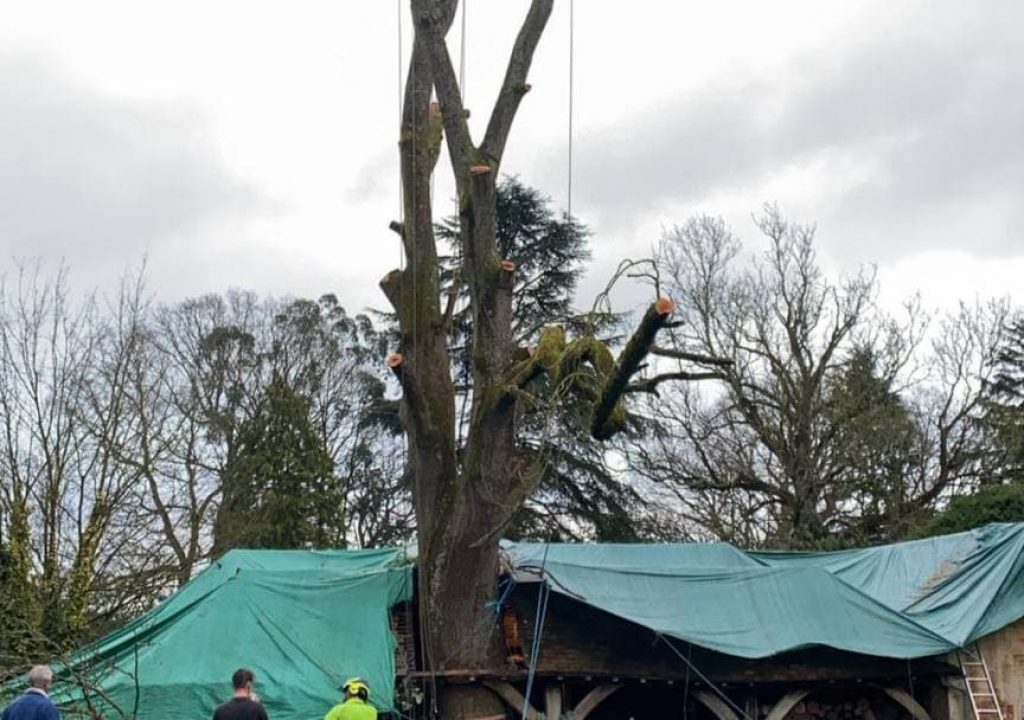 Tree Surgery in Folkestone Kent and surrounding areas
Folkestone Tree Surgeons can advise you on the best course of action for your tree care requirements and provide a full range of services to ensure that we consider all your possible needs.
Tree surgery is a broad term used and covers all the different services associated with tree work.
From crown reduction to tree removal works, our priority is constantly working with the utmost safety in mind – this is important when dealing with dangerous trees, primarily to ensure the safety of all persons in the vicinity and ensure that public access does not become restricted.
It is not uncommon for trees to be located in difficult or awkward positions, such as areas that may be close to buildings or overhead electricity cables. With our strategic approach, we always consider these factors to ensure that the task at hand has been thoroughly planned out.
As with any work, planning is crucial and is something we will always carry out at length to make sure that we only ever come up with the best option for the longevity of your trees.
Tree Surgeon Hythe
In the last few years, there has been a rise in the popularity of living green. More people than ever before want to live sustainably and have natural things like trees around them. This is why we provide regular tree care for our clients to get the most out of their plants while also maintaining an attractive environment.
We offer services such as pruning, trimming, weed control and fertilisation, amongst others, because these all contribute to a healthy tree that provides shade when it's sunny outside and oxygen during the night hours.
Pruning, trimming, and weed control are essential for maintaining the health of trees. These tasks should be performed regularly, at least once or twice every year, depending on where you live and what type of climate you have. Trees will lose their leaves during wintertime but then sprout new ones again in spring – this is why it's so crucial that these processes don't overlap with each other (e.g., pruning your tree while it still has most if not all its leaves). And when cutting any part off the tree, always remember to leave enough foliage behind so there is sufficient light penetration into the crown canopy below, which keeps the tree healthy.
Additionally, it's essential to provide ample watering during dry periods and avoid planting any other trees nearby that would shade out your original one(s). Finally, be sure to use mulch such as bark chips or weed preventers on top of the soil for several reasons: they will discourage erosion from rainwater; act as insulation by retaining moisture in colder months (e.g. When there is snowfall); have nutrients better than just plain old dirt; help keep down weeds while promoting new root growth – all this helps promote healthier leaves.
For any enquiries that you may have, please feel free to message or call us anytime.
As well as covering Folkestone, we are also tree surgeons in Thanet, Dover, Ashford, Canterbury, and the rest of Kent.
Tree Surgery in Folkestone
Tree Surgery in Folkestone
Trees are essential to the health and beauty of a landscape. But sometimes, they need some extra care or special attention, like trimming branches that have grown too high for your property line or shaping up limbs that threaten power lines. Folkestone Tree Surgeons offer an affordable service that will help you with all these tasks and more.
What is tree surgery, and why do we need it?
Tree surgery is the process of trimming and cutting back a tree's branches to satisfy specific needs. For example, when you need more sunlight in your garden or want to clear away unwanted foliage from an aesthetic standpoint.
Tree surgeons are often hired by homeowners who have large trees that require periodic maintenance, or they may be called upon as part of government contracts for maintenance and removal works in public areas.
How does the process of tree surgery work?
Tree surgery is a process that can take years to understand. The first step in this long process involves removing dead branches and any diseased tree limbs.
The next stage includes cutting off more significant sections of bark from the trunk using an axe where necessary, followed by replacing it with a plastic cover called a "tree wrap," which will protect against insects infesting and also safeguard against weathering damage due to wind and rain erosion on unprotected wood surfaces.
The benefits of tree surgery
When it comes to taking care of your trees, there are a lot of options out there. There is tree surgery which can help keep the health and vitality in an older tree while also allowing them to survive climate change. Tree surgeons will trim branches that droop too close to power lines or other objects where they may be dangerous for humans and animals alike; prune dead limbs with potential damage from disease or pests, as well as thinning crowded areas around the trunk, so airflow improves their ability to withstand harsh winters; remove suckers below ground level who might compete with roots when grown-up, provide shade (which could lead to wet leaves) – preventing sunlight needed by stressed plants under drought conditions-or trap.
Common misconceptions about tree surgery
Tree surgery is a serious business that shouldn't be taken lightly. The first misconception people have about tree surgery is that it only involves removing branches and fixing broken limbs when the process includes much more. Tree surgeons also remove dead or diseased trees from their clients' property to maintain safety for themselves and anyone else around them at all times; they preserve the health of plants on-site while ensuring compliance with regulations through trimming hedges to legal specifications—the list goes on!
FAQs on Tree Surgery
Tree surgery is a highly skilled profession. Here are some FAQs related to tree preservation and care:
1. Who is responsible for pruning a tree?
Answer: The person/company who owns or is interested in the property on which the tree is situated (e.g. leaseholder, landlord etc.) is legally obliged to ensure that any work carried out on a tree does not damage it and encompasses all pruning.
2. Can tree work be carried out in the nesting season?
Answer: Yes, if the work is urgent and cannot wait until the next season, for example, a branch has broken off, or a falling unit has damaged a fence panel. However, it is advisable to ensure no damage to nests during these activities.
3. What is the correct way to carry out tree surgery?
Answer: Tree surgeons are trained and qualified professionals who work using professional aerial access platforms, ropes and rigging techniques, personal protective equipment (PPE) such as goggles, gloves etc. Any tree work carried out by an unqualified person can damage the tree and may also be illegal.
Answer: If the tree's condition is deteriorating rapidly or has been damaged by natural hazards (e.g. fallen branch, storm etc.), it should be removed. Some trees are susceptible to insects or disease, posing a risk to other trees in the vicinity. Trees that are dead or have died should be removed, and new ones can replace native tree species if a suitable matching replacement is available, e.g. sycamore to willow, ash to birch.
5. What types of trees are dangerous?
Answer: All trees may look safe, but many can present a risk if they are not maintained correctly. Some tree species have been specially bred to be ornamental or withstand certain conditions, but the trees may still pose a risk if their maintenance regime is not followed. Many national lists can help identify potentially dangerous trees, for example:
For all your tree care needs, Folkestone Tree Surgeons can help. With a team of qualified professionals and years of experience in the industry, our services are second to none for tending trees on private property or public land alike. Contact us today for more information about pricing options!
We are here with solutions for any tree-related need you might have – from routine maintenance like pruning and fertilizing as well as emergency storm response such as fallen branches removal following major storms.
Tree surgery is not just about removing trees that are diseased or damaged. It is also a proactive measure to prevent disease and damage from occurring in the future, as well as an essential part of maintaining your property's value. If you want to know more about how tree surgery can help protect your home for years down the road, get in touch with us today!